Who we are
Techno-Hill is formed with international experienced team member on August 2014.
Our managing director Barani Aung had more than 10 years workingexperience in both Singapore and Local, and graduated from Singapore as well. She had experience in Data Centre infrastructure, Control & Monitoring System in building automation, water quality measurement system, newater system, remote monitoring system, etc. Barani Aung was also used to be former employee at ST Electronics (Data Centre Solutions), Willoglen, and CNA Group in Singapore.
Other team members are also very well experience in Electrical and Mechanical system and having more than 10 years working experience in Singapore, Malaysia, and also local. We have an experienced local PE as well.
We are having experience in local Telecom, Electricity Power, Construction and Oil&Gas industry.
With our experience and hard work, we can commit to our value customer with an excellent supports in each and every given assignments.
---
ORGANIZATION STRUCTURE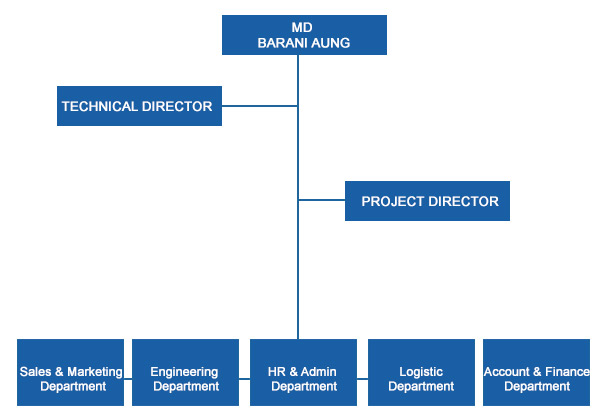 ---
VISION & MISSION
To be a leading engineering firm who can provide most effective technology, solution and service.
To maximize the system efficiency and meet the customer satisfaction with zero error.
To fulfill the needs of customers and business partners beyond expectations.
To skill up ourselves and serve with utmost passion.
To be the trusted partner to our customer and deliver the successful result on each given assignment.
---
POLICY & TARGET
Each and every employee to practice and conduct with:

Integrity
Trust
Diversity
Ingenuity
Partnership
High Performance

To conduct the business in socially responsible and ethical manner.
To accomplish the mission with good attitude and manner together.
Look ahead, grow as far as you can, limitless your ability & capability.
---
Our Future Plan
In future, we are planning to open the training centre and workshop.
We aim to open repair and national calibration service centre as well to provide end to end support to our customers.
Our goal is to fulfil our customers, end users, and even the students or whoever have interest will have opportunities to learn and have hands on experience and familiar with all electrical, power and electronic communication devices and equipment.
Our vision is to enhance the human resource skills and capabilities to maximize and increase the efficiency of the system and our service.
OUR FOCUSED CUSTOMER
Telecom operators, contractors and data centre investors.
Electrical power industry
Construction industry
Broadcasting and media communications companies.
Education centres, universities and schools.
Laboratories and Oil & Gas Enterprise.
TRAINING & AFTER SALES SUPPORT
Internal training for staff. Purpose is to produce qualified staffs to support our valuable customers.
On site training (Training for customer and end user) after sales. We fullysupport our customer in terms of technical and services after sales.
We provide training to our customers and end users with our global well experienced trainers.